Meet Dr. J.D. Simpson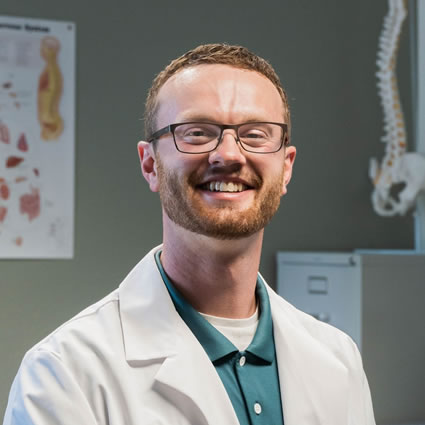 Dr. Simpson enjoys providing quality chiropractic care to the Laramie community. Seeing people make big improvements in their condition, and knowing he's been able to help them when others couldn't, is very fulfilling.
Starting Out
Born and raised in Sheridan, WY, Dr. Simpson graduated with a Bachelor's degree in Wildlife and Fisheries Biology and Management from the University of Wyoming in 2012.
With a growing interest in health care, he enrolled at Laramie County Community College in Cheyenne, graduating from their Physical Therapist Assistant program in 2016. For three years, he practiced physical therapy, helping individuals with chronic diseases and acute injuries. While caring for many of these people, he became discouraged by the vast dependence on medication, with little thought of preventative wellness care.
Discovering Chiropractic
After experiencing a debilitating back injury, Dr. Simpson visited a chiropractor and quickly improved. This experience motivated him to pursue an extensive education at the prestigious Palmer College of Chiropractic in Davenport, IA, where he graduated as valedictorian of his class in 2021.
While difficult at times, Dr. Simpson enjoyed his time at Palmer, especially the anatomy classes. Being able to actually see how the body worked firsthand was incredible, and allowed him to finally connect all the puzzle pieces together. He's also passionate about working with children.
During clinicals, Dr. Simpson worked with a family doctor and saw how hands-on chiropractic made a difference. One case in particular was a 1-year-old girl who had just started walking. She fell down 12 steps in the house and didn't want to walk anymore. She dragged her leg and was barely able to crawl. The doctor determined her sacrum was out of place from the fall, and after just two adjustments, she was able to walk again.
EXPLORE OUR SERVICES
Outside the Practice
Dr. Simpson is married to his beautiful wife Laura, and is blessed with three children. His favorite hobbies include spending time with his family, as well as hunting, fishing, hiking, and camping.
Schedule a Visit
Contact our office today to schedule a visit for you and the family.
---
Dr. J.D. Simpson | (307) 460-9922